Documentation
F-Engrave V-Carving Tutorial (PDF Version: F-engrave_tutorial.pdf) (BMP File Used in Tutorial: Polski_Crest.bmp)
F-Engrave V-Carve Algebra/Geometry Details
The videos embedded below contain a lot of the information regarding the F-Engrave input fields and the basic capabilities of F-Engrave.
Video Tutorial (in French) by EquinoxeFR

F-Engrave video manual addendum
using the DXF import feature



F-Engrave video manual addendum
describing the v-carving feature



V0.1 F-Engrave video manual





Using F-Engrave to engrave text on hockey pucks


F-Engrave can generate tool paths for v-carving. I posted algebra behind the geometric calculations here:Algebra/Geometry.


Sample v-carve generated using F-Engrave. See the Video

F-Engrave can also generate tool paths for b-carving. What is b-carving? B-carving is analogous to v-carving only the bit used in b-carving is a round nose (ball nose) cutter.


Sample b-carve generated using F-Engrave (pictured with the round nose bit used to cut the letters.)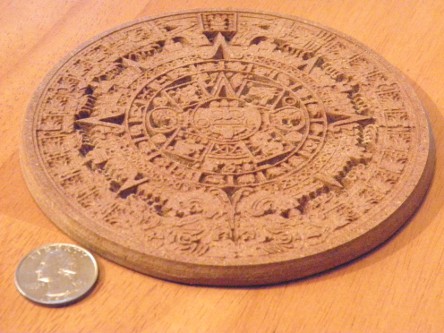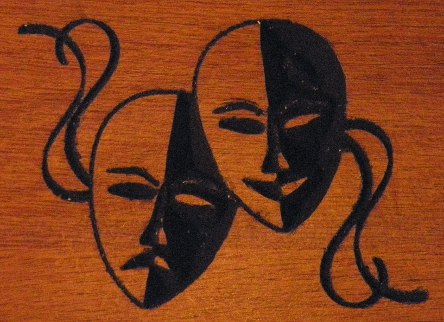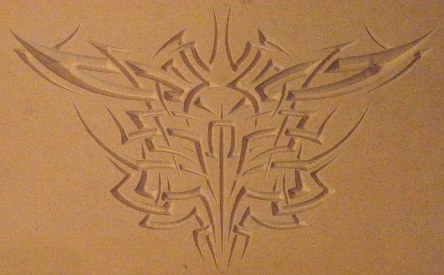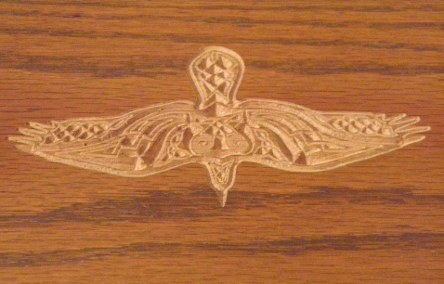 Other v-carvings made with F-Engrave.




- Déjà vu detection (Try not to carve the same place twice)
- More Documentation
Utility that converts True Type font (TTF) files into CXF format:

TTF2CXF (Ribbonsoft) (To compile on Ubuntu I had to add "-lm" in the Makefile and "#include <math.h>" in the main.cpp file.)

F-Engrave uses a modified version of TTF2CXF (called TTF2CXF_STREAM) to import TTF fonts on the fly. The source for TTF2CXF_STREAM is available in the F-Engrave source code zip file.
Font File Links:

Hershey Fonts (CXF) (Stick and Outline Fonts) [zip file] [individual cxf files]

CamBam Fonts (TTF) (Stick Fonts, Each line is cut twice for this font set.)

Liberation Fonts (TTF) (Outline Fonts)

Other Text to G-Code Programs:

Engrave-11 (LinuxCNC)
Hershey Text: An Inkscape extension (Evil Mad Scientist)
DeskEngrave (DeskCNC)

StickFont (NCPlot)

DeskEngrave (DesKAM)

PyCAM (looks like PyCAM can do centering and multiple lines of text. Thumbs up!)

Another Approach to V-carving:
My method for determining the tool paths for v-carving are detailed in the link above. Another method involves calculating Voronoi diagrams or Voronoi nodes. Here are a couple of links to other peoples work.
Calculating Voronoi Nodes and CNC Projects (Andy Payne)

OpenVoronoi (Anders Wallin)





Scorch Works Home
Scorch Works Blog
@scorchworks On Twitter