Adventures in 3D printing
Powder Based 3D Printing
I have long been interested in additive manufacturing methods commonly referred to as 3D Printing. A few years ago I was experimenting with 3D printing using old ink-jet printers and powdered media. The results of my experimenting were partially documented in my first You-Tube video which is embedded below. I was not happy with the strength of my test items. I could tell I was a long way from getting the strength I wanted so I tabled that project.

Manual 3D Printing


Extruder Based 3D Printing
After a long break from 3D printing I decided to give it another shot. Since my last attempt I had accumulated some new tools on of which is a CNC converted Sieg X3 milling machine. My latest attempt at 3D printing involves mounting a plunger sized for standard caulk tubes to my X3 Mill and controlling the extrusion with a stepper motor set up as the 4th axis of my machine. I am running my CNC machine with LinuxCNC (formerly EMC2) and generating the G-code for the 3D prints using Slic3r or Cura.
Silicone Caulk Extruder Setup
There is not much to my current setup. I have a piece of C-channel (bed-frame) with angle iron bolted on to provide mounting locations for the stepper motor, reaction point for the plunger and a support for the caulk tube. The plunger is made from 3/8 water pipe and a couple of pieces of aluminum for the business end of the plunger and an adapter between the pipe and threaded rod connected to the stepper via a flexible coupling. I do have a thrust roller bearing at the angle iron reacting the plunger force to keep the torque at a manageable level.


Caulk Extruder Sketch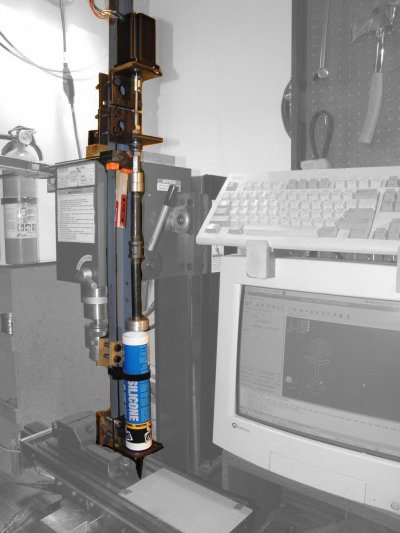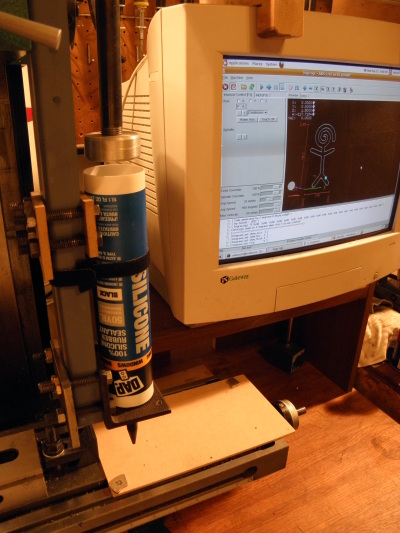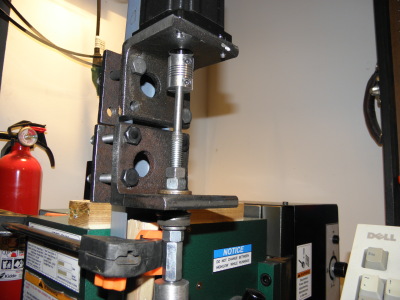 Silicone Extruder in Action
| | |
| --- | --- |
| Printing Silicone Fishing lure bodies (Soft Baits) | Printing Silicone Bracelets |
Sampling of my Printed Items
Printed Item
Description
Silicone Wrist Bands (Similar to Silly Bandz)


Silicone fishing lures bodies. These little guys are shaped like my logo (see bottom of this page).
Available on Thingiverse as: Scorch Bait

Octopus with thicker legs downloaded from Thingiverse.
Bucket O' Octopodes (thicker legs)

Silicone spinner bait skirt for fishing.
Available on Thingiverse as: Spinner Bait Skirt



Silicone frog for fishing.
Available on Thingiverse as: Topwater Frog - Fishing Lure

Related Links
REPRAP
Cura WIKI
Slic3r
Other Places to Find my Work
My YouTube Channel (Scorch Works)
My Thingiverse Page (scorch)


Scorch Works Home
Scorch Works Blog
@scorchworks On Twitter